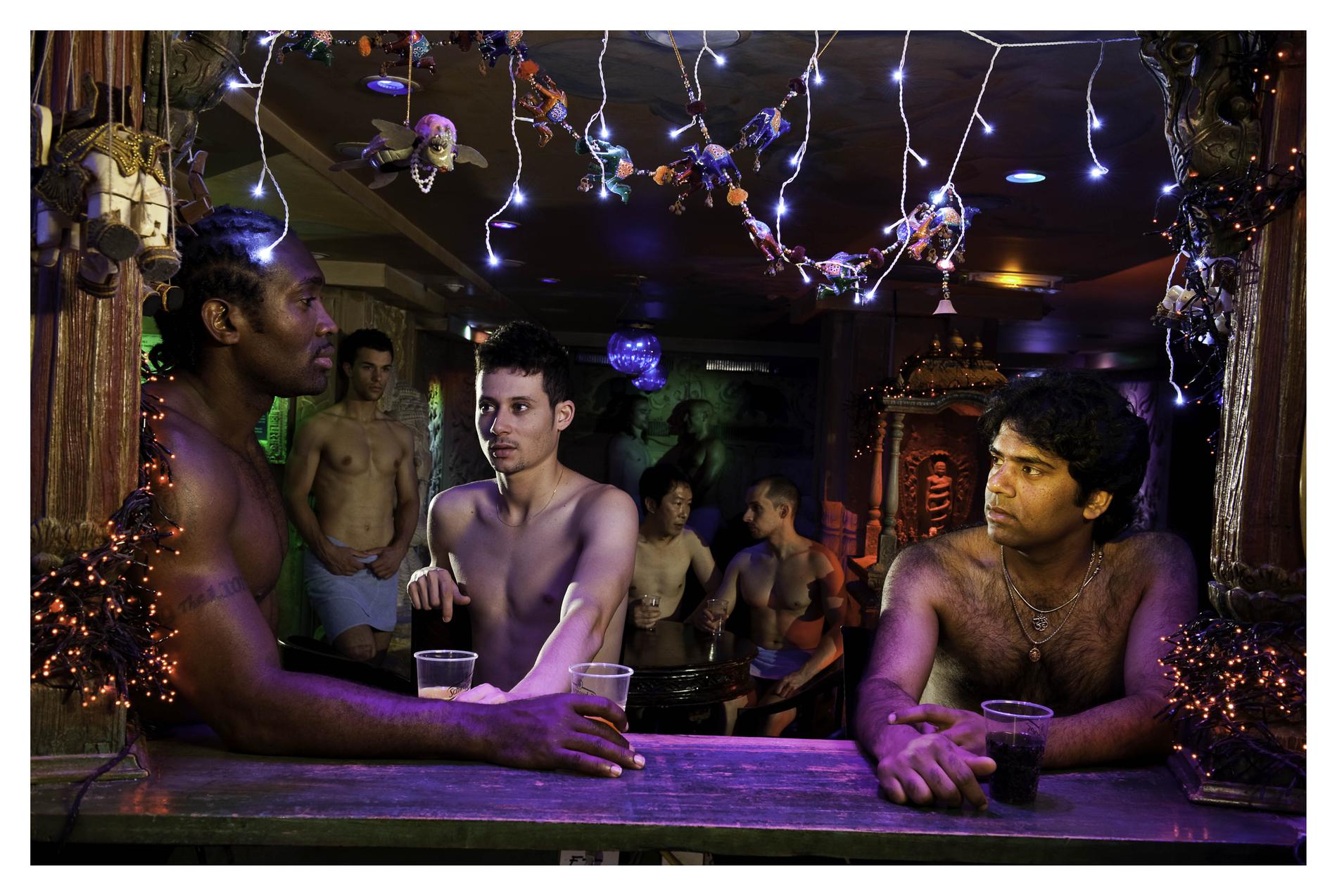 Indian-born, Canadian Artist Sunil Gupta Receives Career-Spanning Retrospective at the RIC
Exhibition includes nearly 200 works that capture LGBTQ+ communities around the world
Media previews by appointment: Thursday, March 31, 2022, 12 pm–6 pm
Contact: ftesfamariam@ryerson.ca
TORONTO, March 9, 2022– This spring, the Ryerson Image Centre (RIC) will mount an extensive retrospective by acclaimed photographer Sunil Gupta, whose autobiographical narratives capture his experiences as a gay man of colour living with HIV in Canada, the U.S, England and his birthplace, India. Sharing works from the 1970s to 2010s, From Here to Eternity: Sunil Gupta, A Retrospective invites viewers to think critically about the relationship between identity, representation, bodies, and freedoms. The exhibition runs from April 6–August 6, 2022 in the Main Gallery.
Throughout his decades-long career, Gupta has positioned himself as a disruptive community activist and artist, known for drawing on the personal and political in his documentary style images to provoke social change. In 1969, at age sixteen, the artist immigrated to Montreal with his family the same year of the Stonewall riots, thrusting him into, in his words, "radical politics without the pain." From participating in New York's active Gay Liberation Movement in the 1970s to his more recent campaigning for gay liberation in India, Gupta has been inspirational to generations of photographic activists and LGBTQ+ rights campaigners.
"I see Gupta as saying yes to being a photographer as a radical act, yes to being an artist and yes to being a person who recognizes that he needs to love to survive." says Dr. Mark Sealy, guest curator of the exhibition, and director of Autograph in London, UK. "Looking across his work it is evident that the powerful undercurrent that ties all of it together is relationships."
From Here to Eternity: Sunil Gupta, A Retrospective asserts the historically absent representations of pleasure, queer sexuality and bodies of colour upon the viewer. The distinct promiscuity of Gupta's photographic style is represented in the retrospective, bringing together works from his diverse series, including street photography (Christopher Street, 1976; London 1982, 1982), narrative portraiture (From Here to Eternity, 1999), using text as a graphic element (Exiles, 1987), staged and constructed scenes (The New Pre-Raphaelites, 2008) and early ventures into digital image making (Trespass, 1992-1995).
The exhibition is co-organized by the Ryerson Image Centre and The Photographers' Gallery (London, UK), in collaboration with Autograph (London, UK) and generously supported by the Canada Council for the Arts and media sponsor, The Toronto Star. Gupta and Sealy will engage in a free virtual conversation on June 22, 12pm.
ABOUT THE CURATOR
Mark Sealy is interested in the relationships between photography and social change, identity politics, race, and human rights. He has been director of London-based photographic arts institution Autograph since 1991. He is professor designate at University Arts London- London College of Communication.
ALSO ON VIEW THIS SEASON
Mauvais Genre/Under Cover: A Secret History of Cross-Dressers explores a range of practices relating to cross-dressing from the 1880s to the 1980s. It draws from the extensive personal archives of French filmmaker, photography collector and curator of the show, Sébastien Lifshitz. The exhibition is produced by the Rencontres d'Arles and will be on view in the University Gallery. A free virtual artist talk with Lifshitz will be held on June 8, 12pm.
Montreal-based artist Dominique Blain's multi-channel video Dérive/Drift will be shown on the Salah J. Bachir New Media Wall. The film consists of hundreds of press and amateur images of the sea commemorating the treacherous journeys of countless migrants who flee situations of war, poverty, and violence, sailing in search of freedom.
Red All Over: World War II Press Photographs From the Sovfoto Agency presents over sixty press photographs made between 1939 to 1945 in the USSR and Eastern Europe and distributed by New York City-based photography agency Sovfoto, the sole supplier of Soviet photojournalistic images in North America at the time. The exhibition is organized by second-year students from Ryerson University's 2020–2021 Film + Photography Preservation and Collections Management program and is on view from April 6–May 7 in the Student Gallery.
Later in the season, the RIC Student Gallery will present two additional exhibitions; Heather Rattray: Things that I Know, Things that You Know, an exhibition documenting a mother-daughter duo's desire to connect with familial roots through the learning and re-learning of their mother-tongue and Chris Donovan: The Cloud Factory, presented in conjunction with the multi-arts, multi-media festival, DocNow.
RELATED PUBLIC PROGRAMS
Thursday, April 7, 12pm ET
Noon Time Collection Talk: Chris Varley

Tuesday, May 31, 7pm ET
RIC Book Launch: Since 1839… Eleven Essays on Photography by Clément Chéroux

Wednesday, June 8, 12pm ET
Curator Talk: Sébastien Lifshitz

Wednesday, June 22, 7 pm ET
Artist and Curator in Conversation: Sunil Gupta and Mark Sealy

All events take place online via Zoom unless otherwise noted. Please visit ryersonimagecentre.ca/events for full details and a current event schedule.
The health of the community remains the RIC's top priority and a number of changes have been made to gallery operations to ensure a safe and enjoyable experience for all visitors. Guests are encouraged to check the RIC website for the most current information on exhibition dates and COVID-19 guidelines.
Ryerson Image Centre
33 Gould Street
Toronto, Ontario, Canada
ryersonimagecentre.ca
416-979-5164
ric@ryerson.ca
Follow us @RICgallery
The Ryerson Image Centre (RIC) exists for the research, teaching and exhibition of photography and related media. We are an active partner within the academic fabric of Ryerson University, the cultural network of greater Toronto, and the national and international artistic community. We develop rigorous yet inclusive programs for students, faculty, artists, researchers and curators, as well as the general public. The RIC boasts three interrelated areas of activity. Our exhibition program addresses topics of social, cultural, aesthetic and historical concern from a variety of contemporary perspectives. Our Peter Higdon Research Centre conducts and facilitates inquiry into primary resource materials and offers workshops, lectures, symposia and publication programs. Finally, we maintain a collection of photography spanning the medium's history, as well as several artist and journalism archives—including the renowned Black Star Collection of twentieth-century photoreportage. For more information, visit ryersonimagecentre.ca.
Ryerson University is Canada's leader in innovative, career-oriented education and a university clearly on the move. With a mission to serve societal need, and a long-standing commitment to engaging its community, Ryerson offers more than 100 undergraduate and graduate programs. Distinctly urban, culturally diverse and inclusive, the university is home to more than 41,500 students, including 2,400 master's and PhD students, 3,200 faculty and staff, and nearly 170,000 alumni worldwide. Research at Ryerson is on a trajectory of success and growth: externally funded research has doubled in the past five years. The G. Raymond Chang School of Continuing Education is Canada's leading provider of university-based adult education. For more information, visit www.ryerson.ca
- 30 -
Media Contact:
Feven Tesfamariam, Ryerson Image Centre
ftesfamariam@ryerson.ca