Dominique Blain: Dérive/Drift
April 6–August 6, 2022
Salah J. Bachir New Media Wall
Guest Curator: Catherine Bédard

Sensitive, powerful, and supremely delicate, Dominique Blain's Drift is comprised of hundreds of press and amateur images of the sea. Found on the internet and compiled in careful layers, these images gently lift like sails in the breeze to reveal scenes of fragile, makeshift boats floating on perilous waters. This multi-channel video commemorates the countless migrants who flee situations of war, poverty, and violence, sailing in search of freedom.
A Core Exhibition of the Scotiabank CONTACT Photography Festival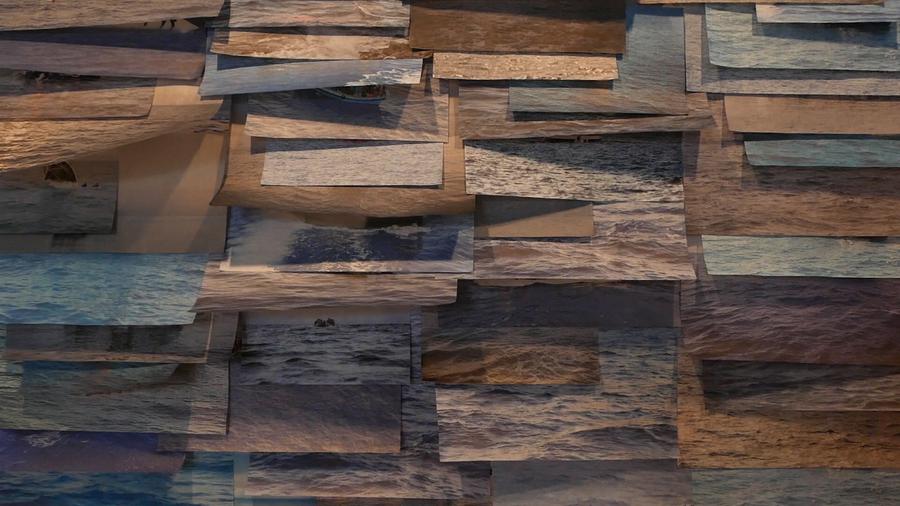 Artist Bio
Dominique Blain (Canadian, b. 1957) lives and works in Montreal. Her multimedia work has been exhibited internationally, including at the Arnolfini Centre for Contemporary Art, Bristol, England (1997); the Musée National des Beaux-Arts de Québec, Canada (1998); the Musée d'art contemporain de Montréal, Canada (2004); and the Canadian Cultural Centre, Paris, France (2019). Blain is also known for her public installations at the Grande Bibliothèque, Montreal (2005); the Jardins de Grand-Métis, Quebec (2007); the Orchestre symphonique de Montréal (2011); and the Théâtre du Nouveau Monde, Montreal (2011). In 2014, she was awarded the Prix Paul-Émile-Borduas, Quebec. Blain's work is held in numerous important public and private collections.
Installation Shots