FAQ
Visitors to The Image Centre and the Toronto Metropolitan University campus are not required to wear a mask or face covering, but are encouraged to do so.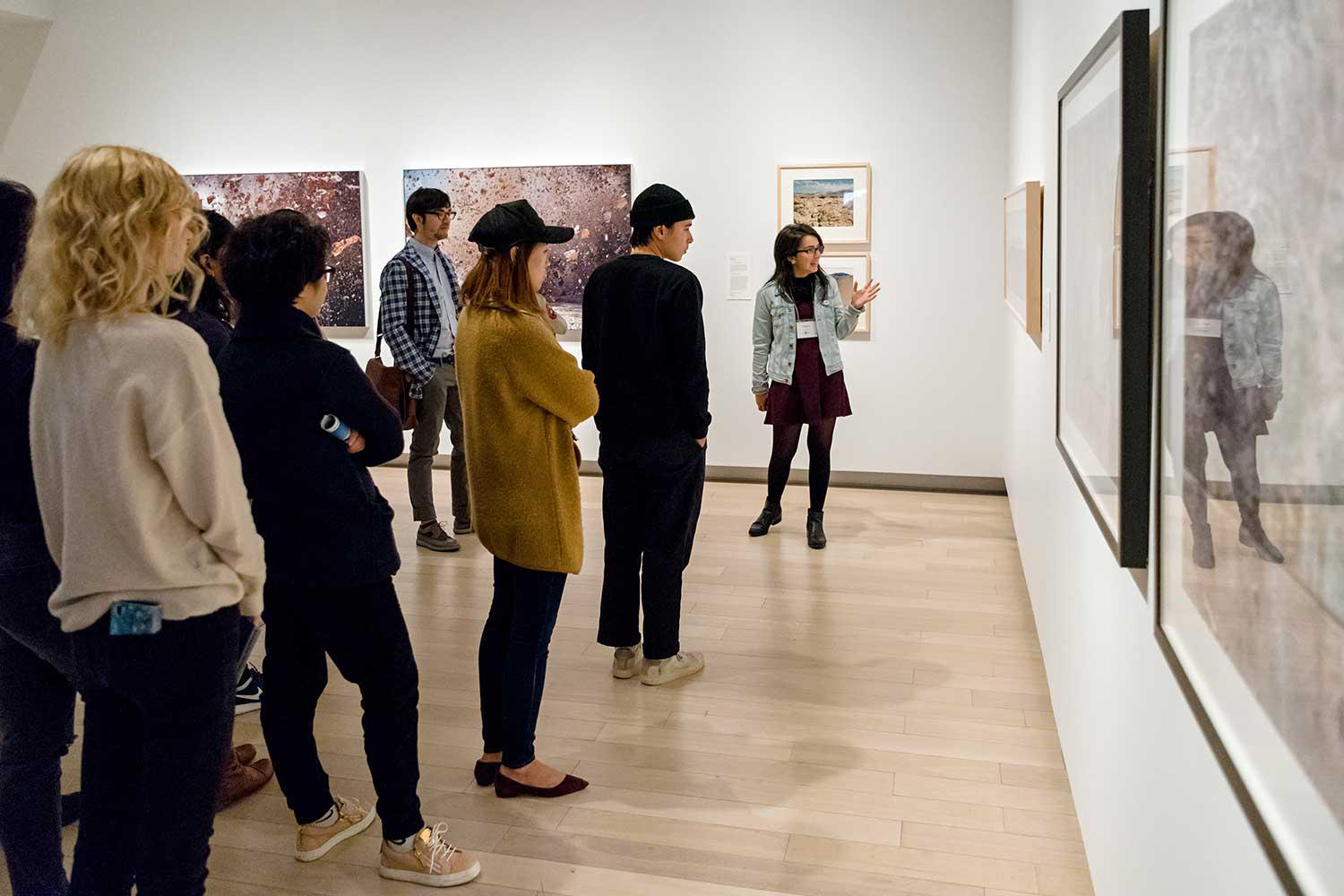 Frequently Asked Questions
We look forward to welcoming you back to The Image Centre.
Our front of house staff will be available to answer visitor questions and to ensure that our new policies and procedures are respected. We reserve the right to deny or revoke entry to any visitor who does not follow our stated policies or codes of conduct.
If you are feeling unwell or experiencing any symptoms of COVID-19, we ask that you please stay home.
HEALTH AND SAFETY MEASURES
Do I need to be vaccinated to visit The Image Centre?
No, The Image Centre is adhering to the health guidelines set out by the provincial government and Toronto Metropolitan University.
Will I have to wear a mask?
Although masking is no longer be a requirement of attendance at the gallery and on the campus, we strongly recommend that all visitors continue to wear a mask or face covering whil indoors to limit the transmission of COVID-19. If you do not have a mask, we will be glad to provide you with a disposable one.
What other protective measures are being taken?
Rigorous safety and cleaning procedures have been implemented throughout our spaces. Hand sanitizer is available. All gallery staff will be wearing face masks and plexiglass barriers have been installed at our welcome desk.
ESSENTIAL INFORMATION
Are tickets required for entry?
Tickets are not required to visit The Image Centre. However, because the number of guests allowed in the galleries is limited, you may be asked to wait in line before entering.
How long am I allowed to spend in each gallery?
There are no limits to time spent in the galleries. You're welcome to spend as much time as you'd like.
What are The Image Centre's hours?
Please note our hours have changed. We are now open from Wednesday–Saturday, 12–6 pm. Tuesdays are reserved for private tours, which must be scheduled in advance by emailing imagecentre.gallery@torontomu.ca or calling 416-979-5164.
Where do I enter and exit The Image Centre?
To help us track the number of visitors in the galleries, we are asking visitors to use our 33 Gould Street entrance. Visitors will no longer be able to enter The Image Centre through Toronto Metropolitan University's School of Image Arts building (located at 122 Bond Street) unless accessibility needs require use of these doors.
PUBLIC PROGRAMS
Will guided tours be available?
Our daily docent-led tours have been temporarily suspended. Tuesdays are now reserved for free private tours, which must be scheduled in advance by emailing imagecentre.gallery@torontomu.ca or calling 416-979-5164.
Will you be holding events this season?
All public programs will be held online. For full details, please visit theimagecentre.ca/events.
Will you be giving out brochures?
No. However, information on our exhibitions and public programs is available on our website.
VISITOR SERVICES
Can I check my coat or bag?
Currently, we are not offering coat or bag check. However, we have installed new cubbies in the Great Hall for visitors to self-check their items.
Are strollers allowed in the gallery?
Yes, we are happy to accommodate baby strollers in the gallery. Guests can also leave strollers behind the welcome desk while visiting.
Will wheelchairs and folding stools be available to borrow?
Yes, we will continue to lend our wheelchair and folding stools to visitors. Equipment will be cleaned and disinfected after each use.
Are washrooms available on-site?
Yes, washrooms will be open and are conveniently located just outside our Great Hall, in the lobby of Toronto Metropolitan University's School of Image Arts. Access to and from the Great Hall will be provided by our front-of-house staff.
Will The Image Centre shop be open?
Yes, the shop is open and our selection of exhibition catalogues and card sets are available for purchase. Debit and credit cards are accepted as payment.
PETER HIGDON RESEARCH CENTRE
Can I visit the Peter Higdon Research Centre?
Access to the PHRC will be limited and by appointment only. To schedule an appointment, please email imagecentre.collects@torontomu.ca or call 416-979-5000 x 552376.