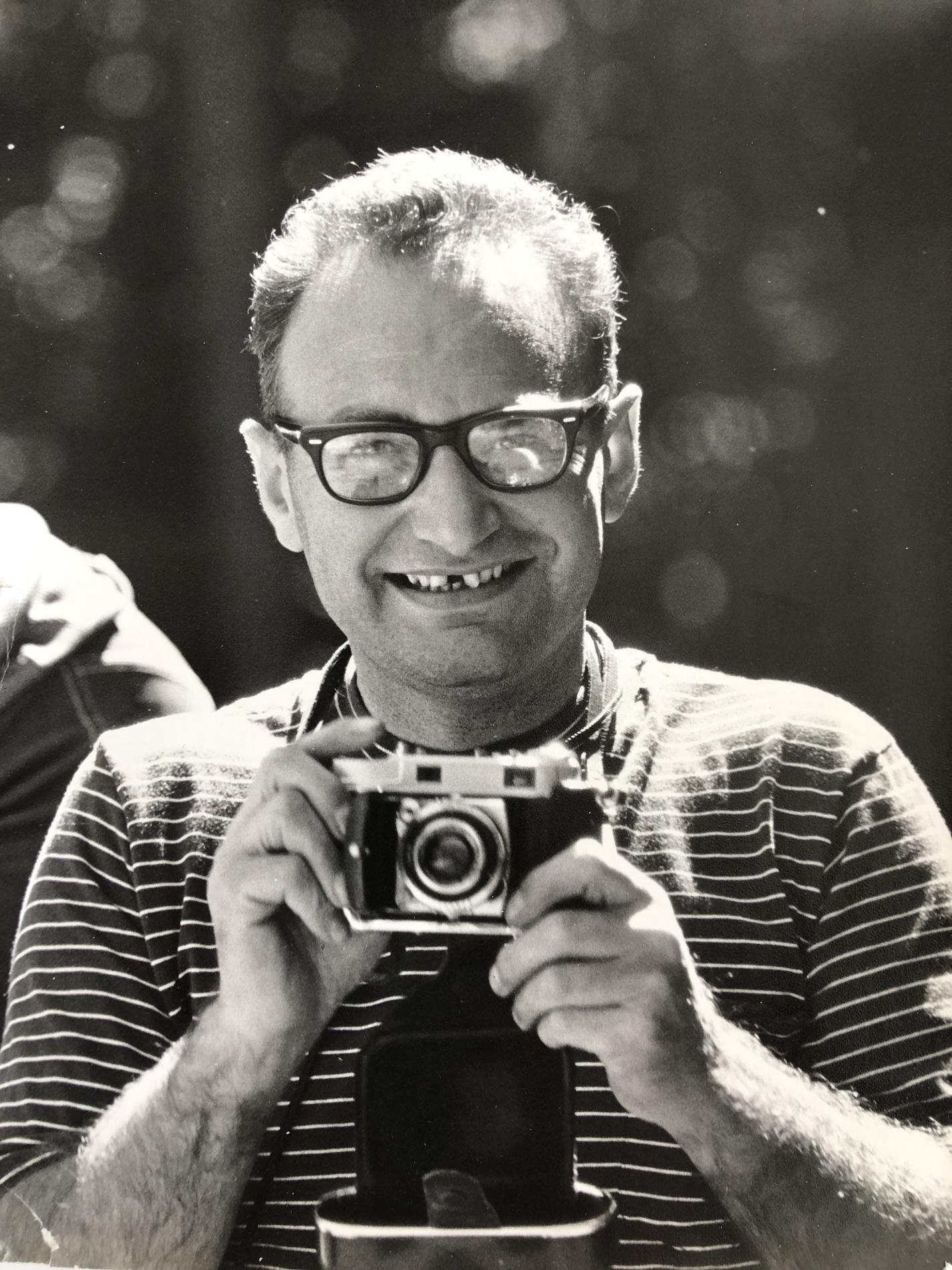 Toronto Metropolitan University students receive newly established Student Gallery Production Awards
Donor gift in memoriam supports student exhibitions at the RIC
TORONTO, May 10, 2022– The Ryerson Image Centre (RIC) is pleased to announce the establishment of an endowment fund, known as the Student Gallery Production Award - in memory of George Fleischmann at Toronto Metropolitan University (TMU). The fund was initiated with a generous gift to institute an annual Award that supports the production of high quality student exhibitions in the RIC Student Gallery.
The $2,500 Student Gallery Production Award (SGPA) will be granted to two winners each year, both of whom will use the designated funds to cover production costs associated with their exhibitions in the RIC Student Gallery.
The first bi-annual winner of the SGPA Award is artist and photojournalist Chris Donovan, a documentary photographer who focuses on the intersection of community and industry. Donovan's exhibition The Cloud Factory, the first to be supported by the SGPA, is also his graduating thesis for his MFA in the university's Documentary Media Program. "This award has helped tremendously in removing financial barriers to making this show exactly what I want it to be. I'm proud of the exhibition that we have put together and it could not look as good as it does without the generous support of this award," says Donovan.
The Cloud Factory is a feature exhibition of the DocNow Festival 2022 and will be on view at the RIC from May 18–June 18, 2022. Donovan will be in conversation with RIC Director, Paul Roth, during a free virtual artist talk revealing insights into his practice on May 18, 2022 at 12 pm ET - registration is required.
The second winner of the SGPA Award is Toronto-based photographer and visual artist Caeden Wigston. Wigston graduated in 2022 with a BFA from TMU's School of Image Arts, majoring in photography. His exhibition Dissension is a photo-based project which explores the manifestations of growing up Queer in the Christian Church. It will be on view in the Student Gallery from Nov. 2 - Dec. 3, 2022.
The Student Gallery showcases the art and curatorial practices of Toronto Metropolitan University's current undergraduate and graduate students and recent alumni from all disciplines through exhibitions of contemporary art and historical lens-based media. The winners have been selected from submissions received for the DocNow 2022 Festival and Maximum Exposure by a committee of RIC staff members, as well as students and faculty members from the School of Image Arts at the Creative School.
The RIC is grateful to our donor, Peter Lengyel, who made this substantial contribution to Student Gallery exhibitions in memory of George Fleischmann. Fleischmann – or Zev, as he was known to his friends and family – was born in Budapest, Hungary, in 1931. After surviving the war and the Budapest ghetto, he immigrated to Canada with his younger brother in 1948. One of the first things he bought after arriving in Canada was a camera. After meeting his wife Rina through a Jewish youth movement, the two travelled to Israel where they lived on a kibbutz until 1957. After returning to Canada, Zev worked as a construction electrician for over 30 years. Zev cared deeply about his family, had a wry sense of humour, and a deep interest in history and politics. He died in 2019, after nearly seven decades of marriage. Zev became a passionate amateur photographer who could always be found with his camera. He took pleasure in taking photos of family, nature in Muskoka, urban life in Toronto, Israel, and other places he would travel. He was interested in how pictures were made and developed: he had a dark room in his house, developed his own black and white pictures, and had a collection of old cameras, which he liked to repair. The RIC will strive to honour George Fleischmann and his love for photography with this fund.
Ryerson Image Centre
33 Gould Street
Toronto, Ontario, Canada
ryersonimagecentre.ca
416-979-5164
ric@ryerson.ca
Follow us @RICgallery
The Ryerson Image Centre (RIC) exists for the research, teaching and exhibition of photography and related media. We are an active partner within the academic fabric of Toronto Metropolitan University, the cultural network of greater Toronto, and the national and international artistic community. We develop rigorous yet inclusive programs for students, faculty, artists, researchers and curators, as well as the general public. The RIC boasts three interrelated areas of activity. Our exhibition program addresses topics of social, cultural, aesthetic and historical concern from a variety of contemporary perspectives. Our Peter Higdon Research Centre conducts and facilitates inquiry into primary resource materials and offers workshops, lectures, symposia and publication programs. Finally, we maintain a collection of photography spanning the medium's history, as well as several artist and journalism archives—including the renowned Black Star Collection of twentieth-century photoreportage. For more information, visit ryersonimagecentre.ca.
Toronto Metropolitan University (TMU) is Canada's leader in innovative, career-oriented education and a university clearly on the move. With a mission to serve societal needs, and a long-standing commitment to engaging its community, TMU offers more than 100 undergraduate and graduate programs. Distinctly urban, culturally diverse and inclusive, the university is home to more than 41,500 students, including 2,400 master's and PhD students, 3,200 faculty and staff, and nearly 170,000 alumni worldwide. Research at TMU is on a trajectory of success and growth: externally funded research has doubled in the past five years. The G. Raymond Chang School of Continuing Education is Canada's leading provider of university-based adult education. For more information, visit www.ryerson.ca
- 30 -
Media Contact:
Feven Tesfamariam, Ryerson Image Centre
ftesfamariam@ryerson.ca