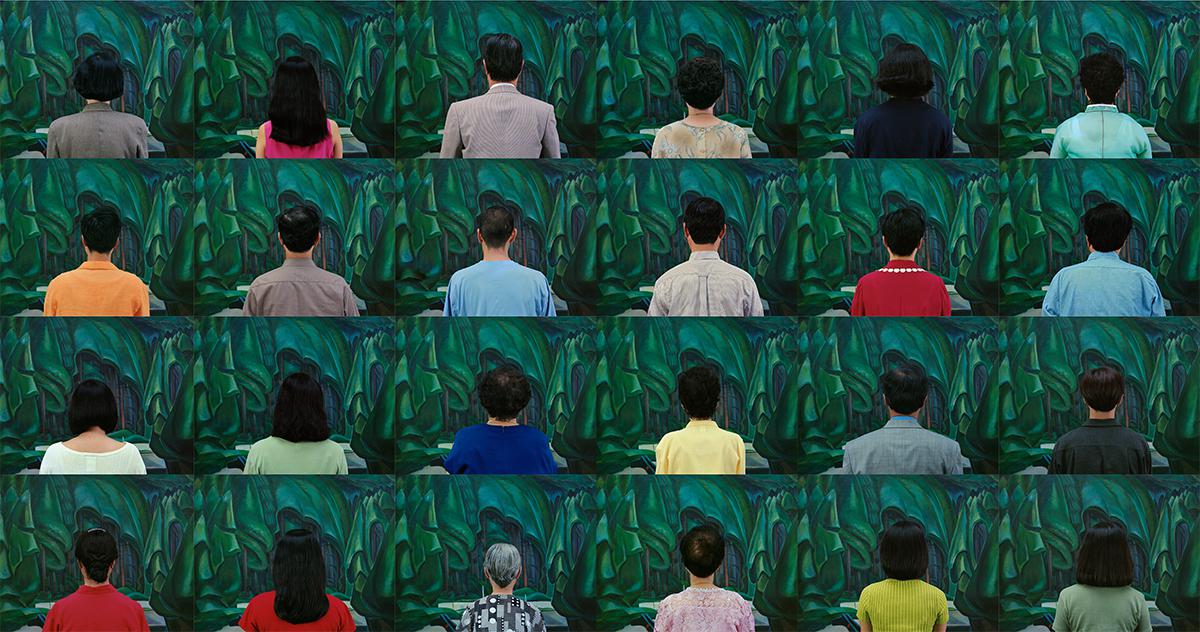 The Image Centre to open major exhibition of Korean-Canadian artist Jin-me Yoon
The exhibition brings together 30 years of Jin-me Yoon's photography, video, and performance exploring the construction of national and diasporic identities, including many new and never-before-seen works.
April 13, 2023, TORONTO, ON — The Image Centre (IMC) at Toronto Metropolitan University (TMU) is pleased to announce a dynamic spring/summer season of exhibitions and public programs, headlined by Korean-born and Vancouver-based artist Jin-me Yoon, winner of the 2022 Scotiabank Photography Award.
The opening of the exhibitions will coincide with the public launch party for the 2023 Scotiabank CONTACT Photography Festival, to be held at the IMC on April 28, 7–10 pm [Cancelled, see note below].
"We're thrilled to be opening our spring/summer exhibitions, in particular Jin-me Yoon's Scotiabank Photography Award exhibition, and to invite Toronto audiences to celebrate the launch of this year's Scotiabank CONTACT Photography Festival," says IMC Director Paul Roth.
Since the early 1990s, Yoon has used photography, video, and performance to situate her personal experience of migration in relation to unfolding historical, political, and ecological conditions. In this major exhibition spanning the IMC's Main Gallery and University Gallery, visitors can expect to see formative early series along with never-before-seen and new works by the artist.
"Through her multilayered art practice, Jin-me Yoon deftly maneuvers between past and present and reframes our understandings of the crucial issues of our day, including colonialism, militarization, displacement, and environmental destruction, while also alluding to different possibilities for the future," says IMC Exhibitions Curator Gaëlle Morel.
Highlights of the exhibition include A Group of Sixty-Seven (1996), a touchstone in the public articulation of Canadian identity and race. Formal portraits of 67 members of the Korean-Canadian community were taken by the artist in front of iconic Canadian landscape paintings by Lawren Harris and Emily Carr. The work also makes reference to 1967, Canada's centenary and the year a revised Immigration Act established new standards for assessing potential immigrants.
Never-before-seen photographs include the series Time New Again (2010/2022) in which the artist crawled on a moving platform through sites where she had inherited cultural, intellectual, and artistic traditions—in Seoul, Vienna, Vancouver, Beppu, Mexico City, and Nagoya.
In Long Time So Long (2022), a new series catalyzed by the pandemic, Yoon wears traditional Korean talchum masks that are fused with the characters of digital emojis, creating a satirical elegy to a broken world. In Pacific Flyaways (2022), Yoon photographs youth of Korean ancestry against a background of oil refineries, at a bird sanctuary on the unceded territories of the Tsleil-Waututh Nation, in a recouping of the traditional Korean crane dance.
An accompanying publication by Steidl celebrates the complex yet highly distilled photographs of this dynamic and thought-provoking artist.
Scotiabank Photography Award: Jin-me Yoon is organized by The Image Centre, presented by Scotiabank, in partnership with CONTACT. With additional support from Partners in Art, the Korean Cultural Centre, and Superframe.
ABOUT JIN-ME YOON
Over the last three decades, Korean-born Vancouver-based Jin-me Yoon has been presented in over 200 exhibitions across North America, Asia, and Australia, as well as select institutions worldwide. Most recently, one of her films screened at the Venice Biennale, her work was presented in a solo exhibition at the Vancouver Art Gallery, and a touring survey was organized by the Musée d'art de Joliette. Yoon is represented in 20 public and corporate collections; she received the prestigious Smithsonian Artist Research Fellowship, was shortlisted for the Art Gallery of Ontario Grange Prize, and was inducted as a Fellow into the Royal Society of Canada, recognized for her research contributions in art.
FEATURED PUBLIC PROGRAMS
Gerald McMaster & Ming Tiampo on Art in Canada Past and Future: A Conversation about Works by Iljuwas Bill Reid and Jin-me Yoon
Co-presented with Art Canada Institute
Tuesday, April 25, 2023 | 7 pm
George Ignatieff Theatre, 15 Devonshire Place, Toronto
Reserve your seat at events@aci-iac.ca
Learn more
Scotiabank CONTACT Photography Festival Launch + IMC Spring/Summer Exhibitions Opening
Friday, April 28, 2023 | 7–10 pm
**In recognition of the ongoing CUPE 233 union strike at Toronto Metropolitan University, CONTACT has decided to cancel the festival launch party**
Special Exhibition Tour: Scotiabank Photography Award: Jin-me Yoon
Vicki Kwon, Associate Curator, Korean Art & Culture at the Royal Ontario Museum
Wednesday, May 24, 2023 | 6 pm
Artist and Curator in Conversation
Jin-me Yoon with Euijung McGillis, Assistant Curator of Photographs Collection at the National Gallery of Canada
Wednesday, June 14, 2023 | 7 pm ET
Online via Zoom (check website for details)
Special Exhibition Tour (in Korean): Scotiabank Photography Award: Jin-me Yoon
Vicki Kwon, Associate Curator, Korean Art & Culture at the Royal Ontario Museum
Wednesday, July 19, 2023 | 6 pm
All events take place at The Image Centre (33 Gould Street, Toronto) unless otherwise noted.

The Image Centre
33 Gould Street
Toronto, Ontario M5B 1W1
416-979-5164
theimagecentre.ca
imagecentre.gallery@torontomu.ca
Follow us @imagecentreTO
ABOUT THE IMAGE CENTRE
The Image Centre (formerly known as Ryerson Image Centre) exists for the research, teaching, and exhibition of photography and related media. We are an active partner within the academic fabric of Toronto Metropolitan University, the cultural network of greater Toronto, and the national and international artistic community. We develop rigorous yet inclusive programs for students, faculty, artists, researchers, and curators, as well as the general public. The Image Centre boasts three interrelated areas of activity. Our exhibition program addresses topics of social, cultural, aesthetic, and historical concern from a variety of contemporary perspectives. Our research program conducts and facilitates inquiry into primary resource materials and offers workshops, lectures, symposia, and publication programs. Finally, we maintain a collection of photography spanning the medium's history, as well as several artist and journalism archives, including the renowned Black Star Collection of twentieth-century photo reportage. For more information, visit theimagecentre.ca, and follow us on Instagram, Twitter, Facebook, and YouTube at @ImageCentreTO | #TheImageCentre
ABOUT TORONTO METROPOLITAN UNIVERSITY
Toronto Metropolitan University, formerly known as Ryerson University, is Canada's leader in innovative, career-oriented education. Urban, culturally diverse and inclusive, the University is home to more than 48,000 students, including 2,900 Master's and PhD students, 4,000 faculty and staff, and over 225,000 alumni worldwide. For more information, visit torontomu.ca.

- 30 -
MEDIA CONTACT
Kristen Dobbin, The Image Centre
kristendobbin@torontomu.ca