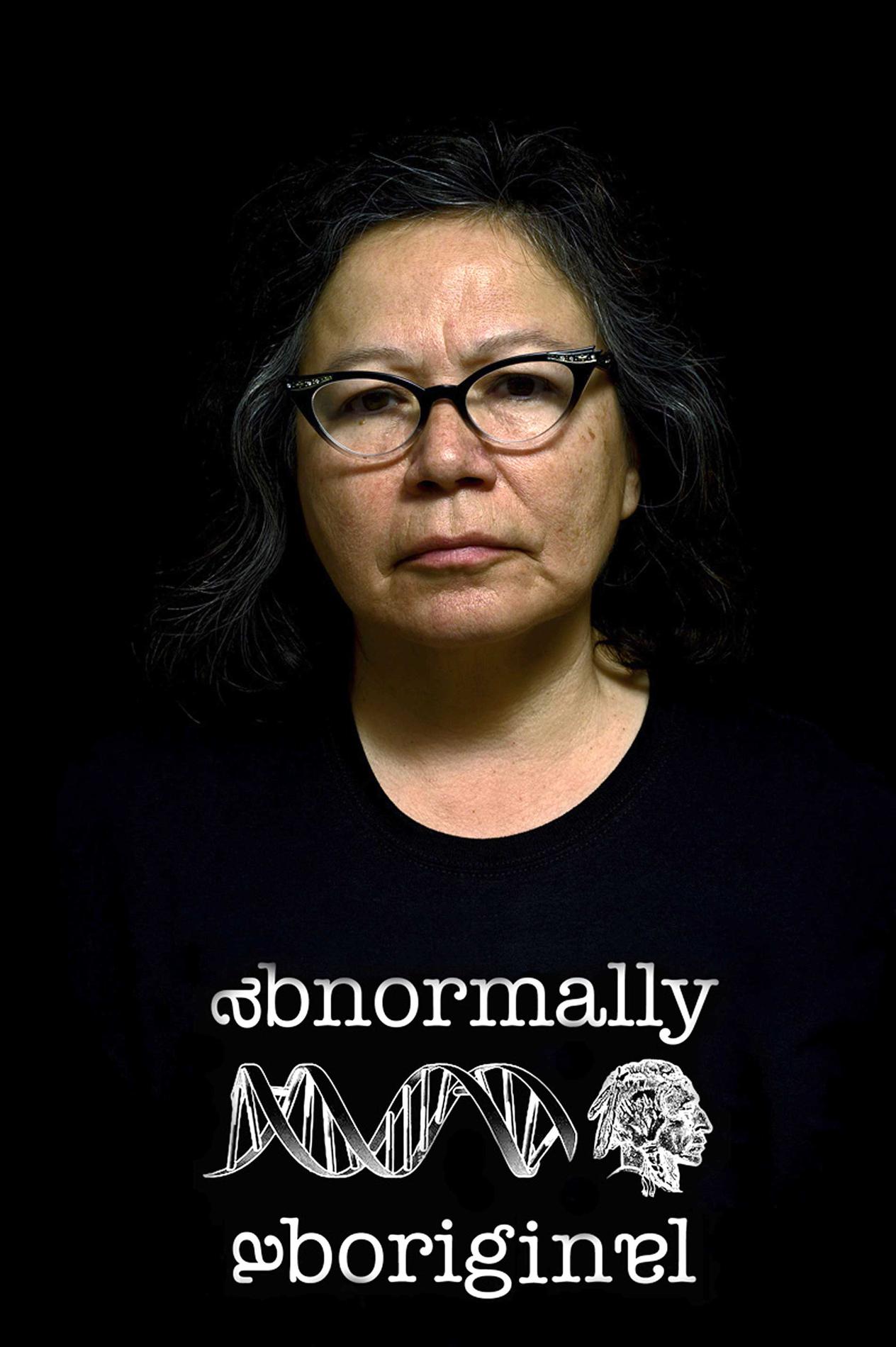 This National Indigenous Peoples Day, the Ryerson Image Centre showcases three contemporary Indigenous artists
This National Indigenous Peoples Day, the Ryerson Image Centre (RIC) is pleased to present work by three contemporary Indigenous artists: Shelley Niro, Nadia Myre and Scott Benesiinaabandan. Collectively, these artists explore notions of culture, identity and the complex colonial histories of Indigenous people using photography, film and new media. All exhibitions launched during the official kick-off party for the Scotiabank CONTACT Photography Festival on April 27 and will remain on view until August 5, 2018.
"We're pleased to be among all the important events taking place in Canada during National Indigenous Peoples Day. All three artists on view work around themes of indigenous history, identity, and tradition," says Paul Roth, Director of the Ryerson Image Centre. "Artists are often able to address society's most difficult and contentious issues in ways that resonate with a wide audience."
Scotiabank Photography Award: Shelley Niro celebrates the career of this Canadian artist, known for challenging stereotypes and exploring notions of culture and identity with sensitivity and humour. A member of the Six Nations Reserve, Bay of Quinte Mohawk, Turtle Clan, Niro combines beadwork designs, archival images, family pictures, videos, and installation to question traditional representations of Indigenous peoples, with a particular focus on womanhood. This exhibition is presented by Scotiabank and organized by the Ryerson Image Centre in partnership with the Scotiabank CONTACT Photography Festival.
On view on the RIC's Salah J. Bachir New Media Wall, Nadia Myre's silent video Acts that Fade Away presents the artist's hands and forearms filmed from above as she carefully manipulates the needles, threads, patterns, beads, and tools necessary to craft four Indigenous-inspired objects. These include a pair of baby moccasins, a small basket, a woman's hair bonnet, and a bandolier bag—guided only by instructions pulled from nineteenth-century women's magazines. Through the reappropriation of instructions and gestures drawn from European and North American illustrated publications, Myre reclaims Indigenous skills and crafts devalued by colonization.
As part of Scotiabank CONTACT Photography Festival's outdoor public installation program, artist Scott Benesiinaabandan (Obishikokaang Anishinaabe First Nation) explores the historical complexities that are often buried under the metaphorical weight of monuments that commemorate colonial stories. As part of Benesiinaabandan's ongoing series newlandia: debaabaminaagwad, fragmented patterns are conformed to the irregular surfaces of the boulders in nearby Devonian Pond, recalling Indigenous petroglyphs and ancient ceremonial sites.
"My installation speaks to our country's highly contentious past that once renounced the rights of Indigenous people to their traditions and ancestral lands," says artist Scott Benesiinaabandan. "I hope that my work offers a new interpretation of this historically-charged site, framing powerful and imaginative trajectories for a possible future."
All exhibitions remain on view until August 5 and are accompanied by free public programming, including artist and curator walk-throughs, talks, and more. A full schedule of events is available via ryersonimagecentre.ca/events.
Ryerson Image Centre
33 Gould Street
Toronto, Ontario, Canada
FREE ADMISSION
Free exhibition tours daily at 2:30 pm
www.ryersonimagecentre.ca
416-979-5164
ric@ryerson.ca
Follow us @RICgallery
The Ryerson Image Centre (RIC) exists for the research, teaching and exhibition of photography and related media. We are an active partner within the academic fabric of Ryerson University, the cultural network of greater Toronto, and the national and international artistic community. We develop rigorous yet inclusive programs for students, faculty, artists, researchers and curators, as well as the general public. The RIC boasts three interrelated areas of activity. Our exhibition program addresses topics of social, cultural, aesthetic and historical concern from a variety of contemporary perspectives. Our Peter Higdon Research Centre conducts and facilitates inquiry into primary resource materials and offers workshops, lectures, symposia and publication programs. Finally, we maintain a collection of photography spanning the medium's history, as well as several artist and journalism archives—including the renowned Black Star Collection of twentieth century photoreportage. For more information, visit www.ryersonimagecentre.ca
Ryerson University is Canada's leader in innovative, career-oriented education and a university clearly on the move. With a mission to serve societal need, and a long-standing commitment to engaging its community, Ryerson offers more than 100 undergraduate and graduate programs. Distinctly urban, culturally diverse and inclusive, the university is home to more than 41,500 students, including 2,400 master's and PhD students, 3,200 faculty and staff, and nearly 170,000 alumni worldwide. Research at Ryerson is on a trajectory of success and growth: externally funded research has doubled in the past five years. The G. Raymond Chang School of Continuing Education is Canada's leading provider of university-based adult education. For more information, visit www.ryerson.ca
CONTACT, a not-for-profit organization founded in 1997, fosters and celebrates the art and profession of photography with an annual Festival in May and year-round programming in the CONTACT Gallery. CONTACT is generously supported by Scotiabank, Nikon Canada, Pattison Outdoor Advertising, La Fondation Emmanuelle Gattuso, Vistek, Dentons Canada LLP, Toronto Image Works, The Gilder, Transcontinental PLM, 3M Canada, BIG Digital, Waddington's Auctioneers and Appraisers, Four By Eight Signs, Beyond Digital Imaging, Steam Whistle Brewing, Art Toronto, The Gladstone Hotel, The Globe and Mail, NOW Magazine, CBC Toronto, and Canadian Art. CONTACT gratefully acknowledges the support of Celebrate Ontario, Ontario Ministry of Tourism, Culture and Sport, Ontario Arts Council, The Government of Ontario, Partners in Art, Canada Council for the Arts, the Howard Webster Foundation, Mondriaan Fund, Goethe-Institut, the City of Toronto through the Toronto Arts Council, and all of our funders, donors, and programming partners.
The Scotiabank Photography Award, now in its eighth year, is Canada's largest annual peer-nominated, peer-reviewed acknowledgment of excellence in contemporary photography. In 2010 Scotiabank co-founded the Award with photographer Edward Burtynsky, in order to recognize an established mid to later-career artist; celebrate the outstanding contribution they have made to the arts; and raise international and national awareness of the strength of photography in Canada. Each year, the Scotiabank Photography Award-winning artist receives a prize of $50,000, a book overview of their work, published and distributed worldwide by esteemed German publisher Steidl, and a solo exhibition at the Ryerson Image Centre during the Scotiabank CONTACT Photography Festival. These three components of the Award combine to reward the winning artist and advance his or her career in a tangible and meaningful way.
- 30 -
Media Contact: Erin Warner, Ryerson Image Centre, erin.warner@ryerson.ca / 416-979-5000 x7032 @RICgallery