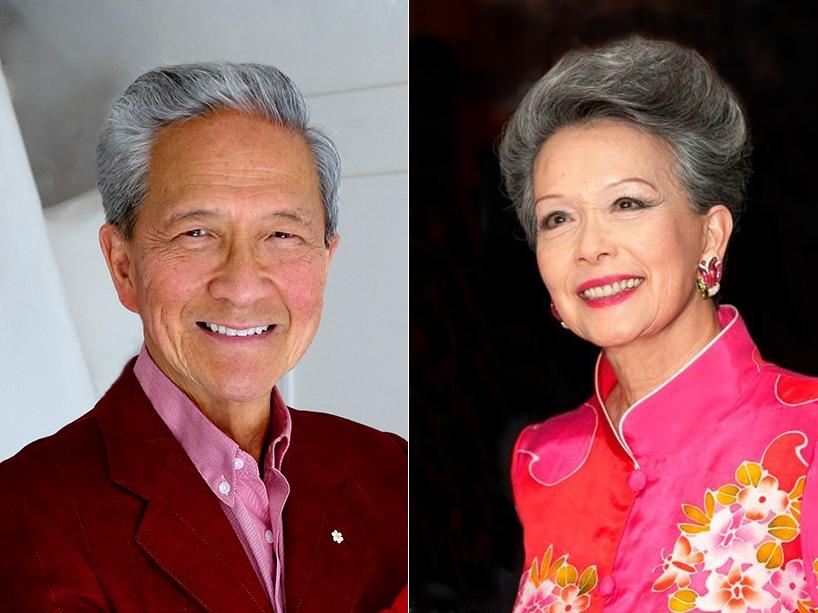 The Image Centre receives $1 million gift from the Honourable Vivienne Poy and Dr. Neville Poy for youth outreach program and new positions for emerging scholars
The donation will bolster The Image Centre's Youth in Focus community outreach program and provide advanced internship opportunities to recent graduates of Toronto Metropolitan University.
The Image Centre (IMC) at Toronto Metropolitan University (TMU) is pleased to announce that Vivienne and Neville Poy have committed $1 million over five years to support The Poy Family Youth in Focus Program and The Poy Family Advanced Internships.
"We've always believed that education and opportunity are the keys to success for young people," said Vivienne and Neville. "We are passionate about photography, which has been an important part of our lives, and we appreciate what The Image Centre has brought to the Toronto community in its first ten years. This is a wonderful chance for us to support young people interested in photography in advancing their own careers."
"The Poys have been great friends to us and long-time advocates for what we do," said Paul Roth, Director of the IMC. "We are so happy to have their support for our Youth in Focus program and for creating new work opportunities at The Image Centre."
Established in 2012, the IMC's Youth in Focus program—now the Poy Family Youth in Focus program—reaches young people from underrepresented communities in the GTA. Customized group tours of exhibitions and collections, followed by creative workshops, teach critical skills to promising young artists so they can express themselves through photography, and also engage in knowledge-sharing, exchanging their own insights and experiences with their peers. The Poys' gift will allow for the continuation and expansion of this essential program, which promotes greater inclusivity, equity, and accessibility in a museum context.
Deeply committed to providing opportunities for future generations, the Poy family have been long-time supporters of Covenant House Toronto, which connects youth with services and education—and is one of the IMC's most recent Youth in Focus partner organizations. Through a collaborative partnership, the IMC ran a series of photography and zine-making workshops engaging youth at Covenant House with creative strategies of storytelling. These workshops were incorporated into Covenant House's Rights of Passage program, which aims to build life skills for youth living in a transitional shelter to prepare them for independent living.
In addition to Vivienne and Neville's support for community outreach at The Image Centre, the Poy Family Advanced Internships are new two-year internships that will give promising graduates from TMU a head start on their careers in museums and archives. The interns will gain valuable experience in the IMC's collections and exhibitions departments—a significant early-career opportunity in the academic photography world.
"This transformational donation to The Image Centre from Vivienne and Neville Poy reflects their dedication to building bridges of understanding between people, and cultivating the next generation of diverse, community-engaged leaders," says Toronto Metropolitan University President and Vice-Chancellor, Mohamed Lachemi. "We are grateful to Vivienne and Neville for their support of the Poy Family Youth in Focus Program, which provides young artists with the chance to engage meaningfully in our exhibitions, deepen their art practice, and foster peer connections. And the newly-established Poy Family Advanced Internships will create unprecedented opportunities for our students looking to kick-start their careers."
Donor Biographies
Vivienne Poy was the first Asian-Canadian to be appointed to the Senate where, over fourteen years, she focused on gender issues, multiculturalism, immigration and human rights, and proposed the successful motion to recognize May as Asian Heritage Month across Canada.
Neville Poy practiced plastic and reconstructive surgery at the Scarborough Hospital, and launched the hospital's world-class burn unit, the first in Canada. Neville is an officer of the Order of Canada, a recognition bestowed for his groundbreaking medical achievements. Following Neville's retirement in 1995, he became a fine art photographer, and his work has appeared in numerous exhibits, publications and presentations.
In fall 2022, the couple received honorary doctorates from TMU.
Learn more
Read: Meet the Fall 2022 honorary doctorate recipients
Watch: Virtual book launch for Neville and Vivienne Poy's book of photography, Precious Moments (October 21, 2021)
- 30 -
About The Image Centre
The Image Centre (formerly known as Ryerson Image Centre) exists for the research, teaching, and exhibition of photography and related media. We are an active partner within the academic fabric of Toronto Metropolitan University, the cultural network of greater Toronto, and the national and international artistic community. We develop rigorous yet inclusive programs for students, faculty, artists, researchers, and curators, as well as the general public. The Image Centre boasts three interrelated areas of activity. Our exhibition program addresses topics of social, cultural, aesthetic, and historical concern from a variety of contemporary perspectives. Our research program conducts and facilitates inquiry into primary resource materials and offers workshops, lectures, symposia, and publication programs. Finally, we maintain a collection of photography spanning the medium's history, as well as several artist and journalism archives, including the renowned Black Star Collection of twentieth-century photo reportage. For more information, visit theimagecentre.ca, and follow us on Instagram, Facebook, and YouTube at @ImageCentreTO | #TheImageCentre
About Toronto Metropolitan University
Toronto Metropolitan University, formerly known as Ryerson University, is Canada's leader in innovative, career-oriented education. Urban, culturally diverse and inclusive, the University is home to more than 46,000 students, including 2,900 Master's and PhD students, 4,000 faculty and staff, and 225,000 alumni worldwide. For more information, visit torontomu.ca.
Media Contact
Kristen Dobbin
Marketing, Communications, and Public Relations Officer
The Image Centre
kristendobbin@torontomu.ca