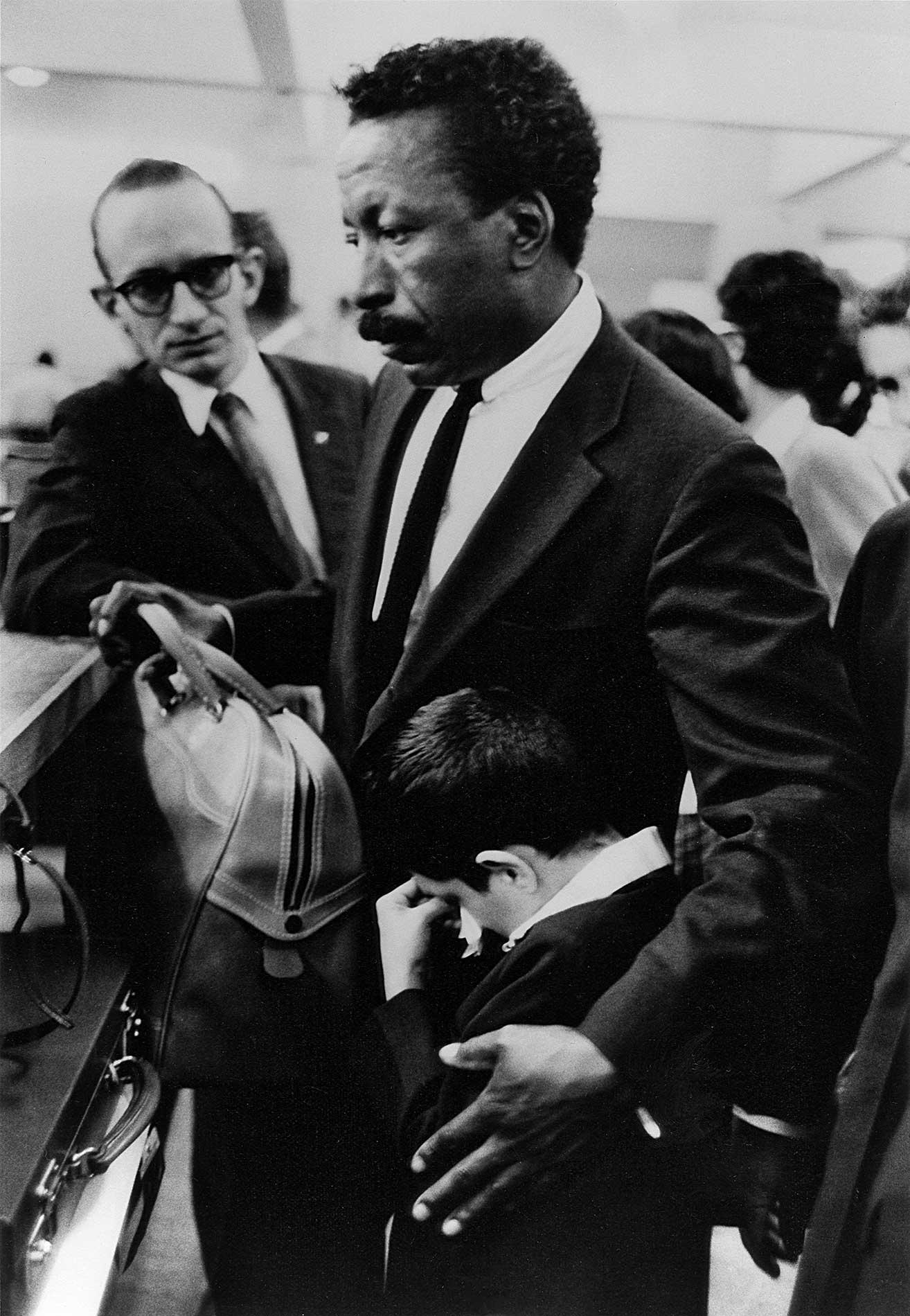 The Ryerson Image Centre's new exhibition explores famous Life magazine photo essay by Gordon Parks
This fall, the Ryerson Image Centre (RIC) will present an exhibition centred around a seminal photo essay by pioneering African-American photojournalist Gordon Parks—and the extraordinary chain of events it prompted. Gordon Parks: The Flávio Story provides an in-depth look at this multi-decade saga in the context of Cold War politics in the United States and Brazil, and at the inner workings and cultural force of Life, the "Great American Magazine." The exhibition launches with a party, free and open to the public, on September 12, 6:00–8:00 pm.
Published in Life magazine in June 1961, "Freedom's Fearful Foe: Poverty" profiled the da Silva family, living in a hillside favela near a wealthy enclave of Rio de Janeiro, Brazil. Focused on the eldest son, Flávio, a resourceful twelve-year-old suffering from crippling asthma, the story elicited thousands of letters and nearly $30,000 USD (more than $250,000 today) in donations from Life readers. In response, the magazine launched an extraordinary "rescue" effort—relocating the family to a new home, moving Flávio to a hospital in the United States, and administering funds to support rehabilitation of the favela. Meanwhile, in Brazil the picture story sparked great controversy in the press: the influential Brazilian magazine O Cruzeiro retaliated against Life's coverage, sending photographer Henri Ballot to New York to highlight poverty in America.
"This exhibition tells the story of one of the most important, enduring, and deeply personal assignments that Gordon Parks ever undertook for Life," says Paul Roth, Director of the Ryerson Image Centre and co-curator (with Amanda Maddox of the J. Paul Getty Museum) of The Flávio Story. "The extraordinary nature of this historic episode speaks to the uneasy relationship in journalism between reporting and intervening in the lives of one's subjects. But just as importantly, the story of Flávio da Silva, its profound emotional impact and political repercussions, illustrates Parks' rare ability to portray the lives of others with unusual intimacy and directness, in a way that resonates long past the time of the photographs' publication."
This exhibition—and an accompanying book published by Steidl Verlag, co-edited and co-authored by Roth—adds to the extraordinary ongoing exploration of Parks' diverse career that has taken place over the past decade, guided by The Gordon Parks Foundation. Roth is one of the world's leading scholars on Parks' photography and a significant contributor to his historical re-evaluation. He was the assistant curator on Parks' 1997 retrospective Half Past Autumn: The Art of Gordon Parks at the Corcoran Gallery of Art in Washington, D.C., and author and co-editor of Gordon Parks: Collected Works (Steidl, 2012) and Gordon Parks (Actes Sud/Photo Poche, 2013).
Parks was born into poverty and segregation in Fort Scott, Kansas, in 1912. An itinerant labourer, he worked as a brothel pianist and railcar porter, among other jobs, before buying a camera at a pawnshop, training himself, and becoming a photographer. Throughout his storied career at Life (1948–1971), Parks contributed numerous photographic essays that spoke to large and diverse audiences, while also conveying aspects of his own experience with indigence, racial discrimination, religion, political and criminal justice, and loss. Evolving into a modern-day Renaissance man, Parks found success as a film director, author, and composer of music. The first African-American director to helm a major motion picture in Hollywood, he helped launch the blaxploitation genre with the blockbuster movie Shaft (1971). Parks wrote numerous memoirs, novels, and books of poetry, and received many awards, including the U.S. National Medal of Arts, and more than fifty honorary degrees. He died in 2006.
On view from September 12 to December 9, 2018, Gordon Parks: The Flávio Story is organized by the Ryerson Image Centre, Toronto, Canada, the J. Paul Getty Museum, Los Angeles, California, USA, and The Gordon Parks Foundation, New York, USA, in partnership with Instituto Moreira Salles, Rio de Janeiro, Brazil. The exhibition is co-curated by Paul Roth (Director, Ryerson Image Centre) and Amanda Maddox (Associate Curator, Department of Photographs, the J. Paul Getty Museum) and generously supported by media sponsors The Walrus and the Toronto Star, with assistance from Instituto Sacatar, Bahia, Brazil. It is accompanied by free public programming, including artist and curator walk-throughs, talks, and more. A full schedule of events is available via ryersonimagecentre.ca/events. Before coming to the RIC, the exhibition debuted at Instituto Moreira Salles in São Paulo and Rio de Janeiro and will travel to The J. Paul Getty Museum in Los Angeles in 2019.
Ryerson Image Centre
33 Gould Street
Toronto, Ontario, Canada
FREE ADMISSION
Free exhibition tours daily at 2:30 pm
www.ryersonimagecentre.ca
416-979-5164
ric@ryerson.ca
Follow us @RICgallery
The Ryerson Image Centre (RIC) exists for the research, teaching and exhibition of photography and related media. We are an active partner within the academic fabric of Ryerson University, the cultural network of greater Toronto, and the national and international artistic community. We develop rigorous yet inclusive programs for students, faculty, artists, researchers and curators, as well as the general public. The RIC boasts three interrelated areas of activity. Our exhibition program addresses topics of social, cultural, aesthetic and historical concern from a variety of contemporary perspectives. Our Peter Higdon Research Centre conducts and facilitates inquiry into primary resource materials and offers workshops, lectures, symposia and publication programs. Finally, we maintain a collection of photography spanning the medium's history, as well as several artist and journalism archives—including the renowned Black Star Collection of twentieth century photoreportage. For more information, visit www.ryersonimagecentre.ca
Ryerson University is Canada's leader in innovative, career-oriented education and a university clearly on the move. With a mission to serve societal need, and a long-standing commitment to engaging its community, Ryerson offers more than 100 undergraduate and graduate programs. Distinctly urban, culturally diverse and inclusive, the university is home to more than 41,500 students, including 2,400 master's and PhD students, 3,200 faculty and staff, and nearly 170,000 alumni worldwide. Research at Ryerson is on a trajectory of success and growth: externally funded research has doubled in the past five years. The G. Raymond Chang School of Continuing Education is Canada's leading provider of university-based adult education. For more information, visit www.ryerson.ca