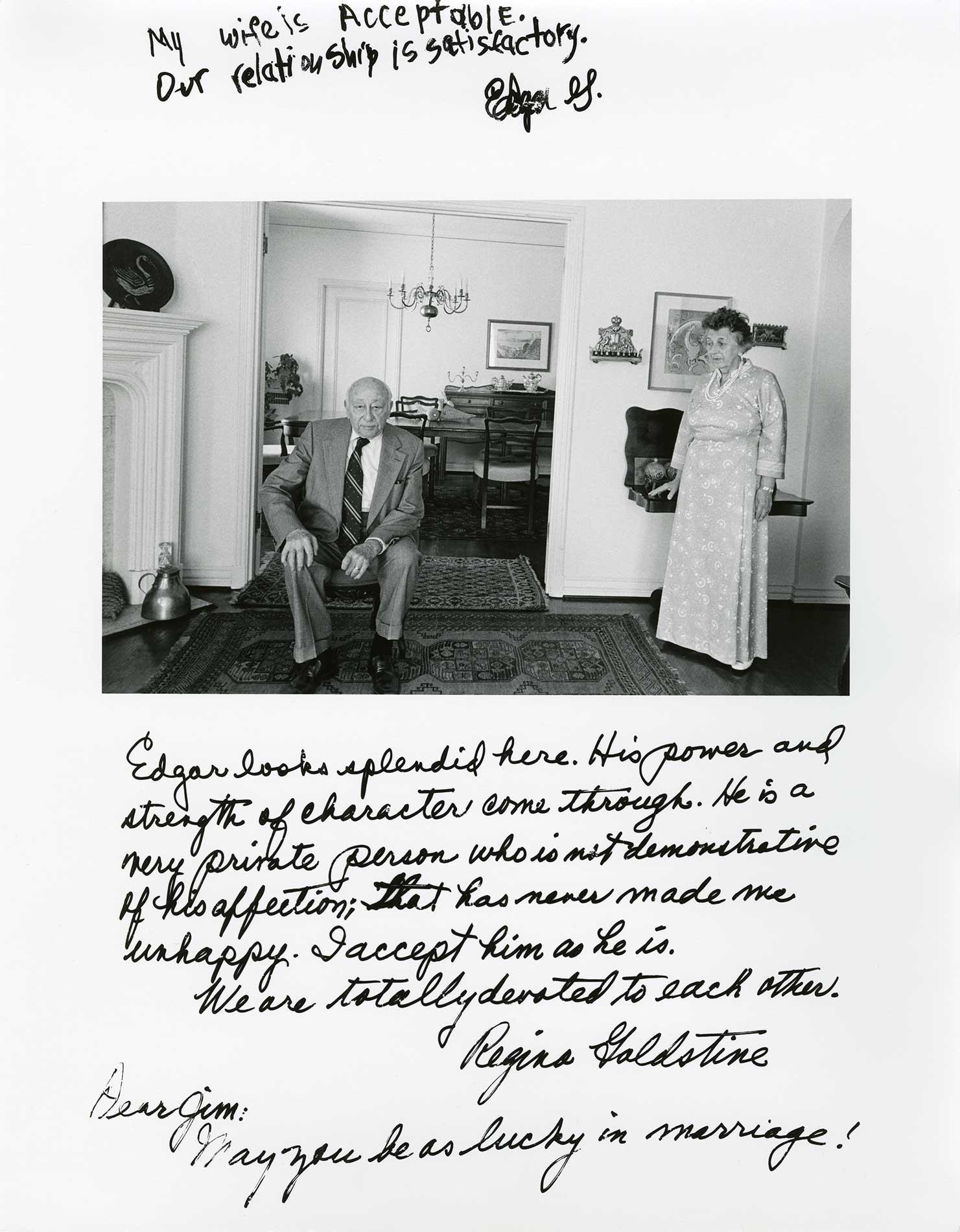 The Ryerson Image Centre challenges the status quo with a series of experimental shows, opening January 24
This winter, the Ryerson Image Centre (RIC) presents a series of experimental shows confronting the traditional power dynamic between photographer and subject. Collaboration: A Potential History of Photography suggests that photography—a medium traditionally understood as one dominated by singular creative adventurers—is better defined by collaboration and interaction. Alongside this exhibition, Jim Goldberg's seminal series Rich and Poor (1977 to 1985) exemplifies this relationship by pairing his portraits with revealing self-observations from his subjects, inscribed directly on the photographs. These images exposed the rising social and economic divide in the United States that has only intensified today. Two additional exhibitions also explore the fluid dynamic between the makers of images, their subjects, and the audience that experiences photography.

All exhibitions open with a reception, free and open to the public, on January 24, 6:00–8:00 pm, and remain on view through April 8, 2018. For a full list of exhibitions and accompanying programs, visit ryersonimagecentre.ca.
Collaboration: A Potential History of Photography is an exhibition and collaborative laboratory created by Ariella Azoulay, Wendy Ewald, Susan Meiselas, Leigh Raiford and Laura Wexler. This team of artists, scholars, and curators have come together to create Collaboration by installing a gridded repertoire of approximately ninety photographic projects from different places and moments. These projects describe types of collaboration—whether friendly and cooperative, or antagonistic and coercive—between photographers, photographed persons, and other participants. Designed to be open-ended, Collaboration invites visitors to participate in the reshaping of photographic meanings through an active program of conversations, encounters, and workshops. View the complete list of events here. This exhibition is presented in partnership with Brown University, University of California, Berkeley, Ryerson University and Yale University, with support to the RIC from The Robert Mapplethorpe Foundation, New York and by media sponsor Toronto Star.
Presented with Collaboration, Jim Goldberg: Rich and Poor further examines the challenges and revelations inherent in creative interaction between photographer and subject. Exhibited at New York's Museum of Modern Art in 1984, and published to acclaim the following year, Rich and Poor established Goldberg's reputation as a transformational figure in the history of documentary photography. The RIC's presentation constitutes the most extensive exploration of this ground-breaking body of work ever put on view; in addition to the original photographs presented at MoMA, it includes rarely-seen prints, original interview recordings, and other archival materials.
Also on view on the RIC's Salah J. Bachir New Media Wall, Ivan Sigal's multi-channel installation KCR explores the Karachi Circular Railway, a now-defunct commuter train that once connected the disparate neighbourhoods of Pakistan's largest metropolis. Sigal created KCR while a fellow at Harvard University's Berkman Klein Center for Internet & Society and is best known for his documentary explorations of societies undergoing conflict or political transition.
The RIC's Winter 2018 season also includes: "Soon we were en route again…": The Margaret Corry Albums (1947–1963), presented by second-year students from Ryerson University's Film and Photography Preservation and Collections Management program, in collaboration with the Royal Ontario Museum and The Family Camera Network. This exhibition explores a collection of photo albums compiled over seventeen years by a well-travelled Canadian expatriate. Also on view in the RIC Student Gallery, A Su Propio Ritmo (At Its Own Rhythm) is the first of a series of installations by Jorge Ayala that explores the documentary heritage of Latin America as reflected on UNESCO's Memory of the World Register.