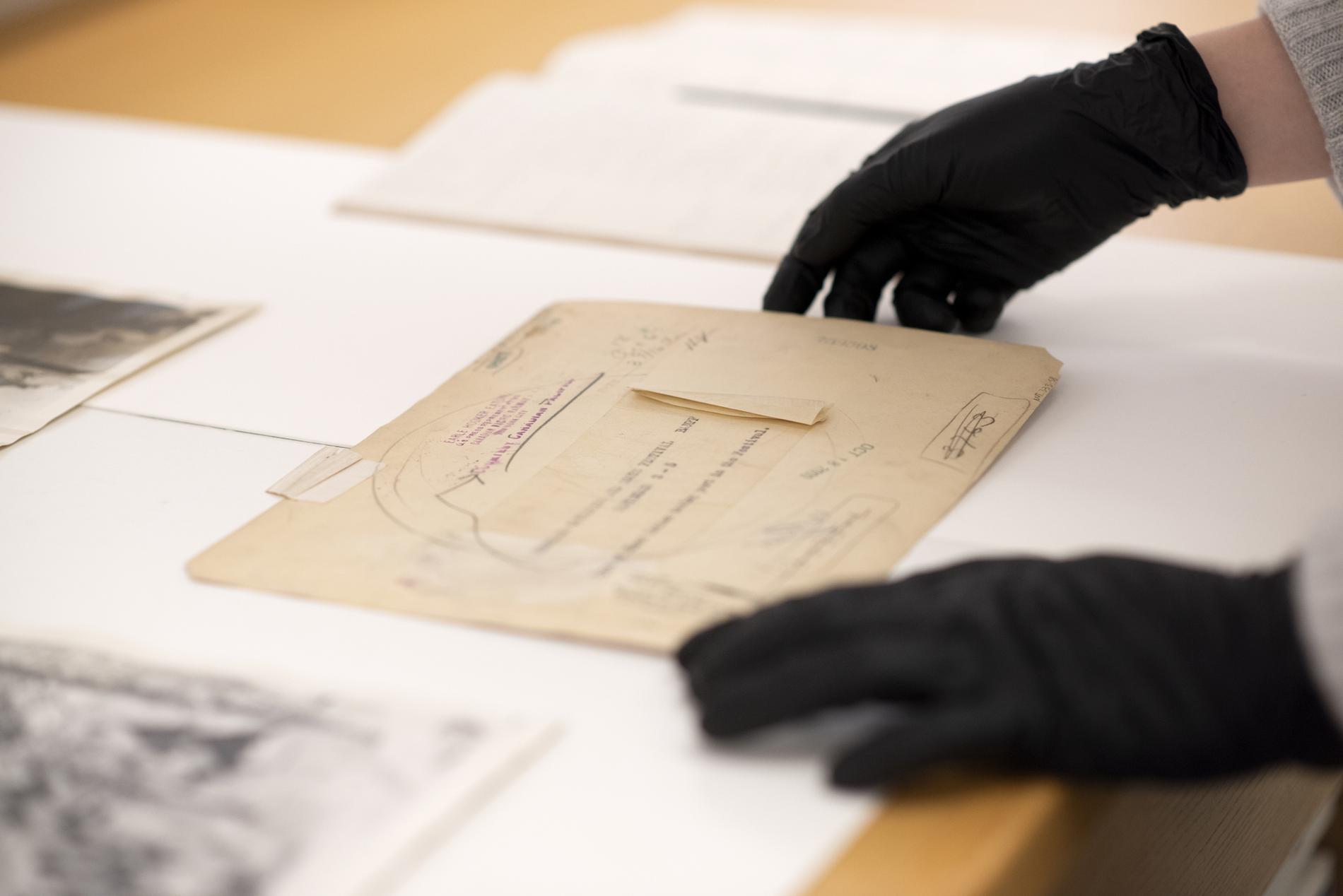 Announcing the 2022 Ryerson Image Centre Fellowship Recipients
The Ryerson Image Centre (RIC) offers annual fellowships to support research related to our collections, bringing scholars from around the world to the RIC's Peter Higdon Research Centre to study specific areas of the RIC's photography collections first-hand. Research by RIC fellows has been extensively published in books and academic journals and included in panels and conferences on photography, furthering discourse around the medium, its history and practices on an international level. Selected from a competitive open call, we are pleased to announce the recipients of this year's RIC Research Fellowships.
Dr. Audrey Sands
The Nadir Mohamed Postdoctoral Fellowship

Audrey Sands is a photography curator and historian. She holds a PhD in the history of art from Yale University where she completed a dissertation on the photographer Lisette Model. From 2019 to 2022, she was the Norton Family Assistant Curator of Photography at the Center for Creative Photography (CCP) in Tucson, Arizona, a joint appointment with the Phoenix Art Museum, where her exhibitions included a major retrospective of social documentarian Marion Palfi and a survey of postwar Japanese photography. She has held positions in curatorial departments at numerous museums, including The Metropolitan Museum of Art, New York; The Museum of Modern Art, New York; the National Gallery of Art, Washington, DC; and the J. Paul Getty Museum. Sands has received numerous fellowships, grants, and awards, including the Henry Luce/ACLS Fellowship in American Art, the Canadian Photography Institute Fellowship, the Tyson Scholarship from Crystal Bridges Museum of American Art, the Joan and Stanford Alexander Award presented by The Museum of Fine Arts, Houston, and the Ailsa Mellon Bruce Predoctoral Fellowship from the Center for Advanced Study in the Visual Arts (CASVA). She currently holds a Curatorial Fellowship from the Andy Warhol Foundation for the Visual Arts.

Abstract

FLASH! The Shape of Light: History, Ethics, and Aesthetics of Flash Photography

FLASH! The Shape of Light: History, Ethics, and Aesthetics of Flash Photography examines over 150 years of global visual output from across a range of disparate fields deploying flash light in photography, from the earliest experiments with the medium through the present day, to consider the history, ethics, and aesthetics of this understudied but ubiquitous visual technique. Throughout photography's history, practitioners have experimented with means of creating portable, instantaneous sources of illumination in order to capture spaces, scenes, and movements that might otherwise remain invisible. Liberating the camera from the constraints and vicissitudes of natural light, flash technologies produce a unique set of aesthetics entirely distinct from that of available-light photography. Flash and strobe illumination have advanced the quest for evidentiary truth, revelation, and the transcendence of embodied vision. These motivating factors have driven nearly two centuries of technological innovation, expanding the frontiers of our knowledge and inspiring artistic expression. Today these technologies are folded into all areas of photography, without second thought, by everyone from professional image-makers to casual camera-phone users. Through extensive archival research, conversations with artists and researchers, a scholarly colloquium, and ultimately a traveling exhibition, this multi-year project sets out to explore the work of photographers who have used flash as a defining practice.
Maura McCreight
The Singer Family Doctoral Fellowship

Maura McCreight is a PhD candidate in art history at The Graduate Center, CUNY, with a focus on the history of photography and art of the Middle East and North Africa. She holds an MA and an advanced graduate certificate in philosophy and the arts from Stony Brook University. Her dissertation retraces photographs of women during the Algerian War for Independence (1954–1962) using methods that demonstrate the conflict's scattered visual archival existence. She is a lecturer in the art departments of Brooklyn College and Bronx Community College and has taught at the New York Institute of Technology. She is a member of the Photography Network and the American Institute for Maghrib Studies (AIMS). Her essay and curatorial project on movement between North Africa and Europe was published in Life Goes On: New Media Art 2022 by CICA Press.

Abstract

Black Star and the Algerian War for Independence (1954–1962)

This research examines photojournalism and reportage of the Algerian War for Independence (1954–1962) in the Black Star Collection. Rarely does research of the Algerian War observe how the language of photography and visual representations of women influence the perception of the war, both on the ground in Algeria and to a global audience. This study treats images of women in diverse roles, pictured by Black Star photographers Dominique Berretty and Charles Bonnay, as direct objects of the conflict's history. Algerian and European women played a pivotal role in challenging colonial control as combatants of the Front de libération nationale (FLN), nurses, educators, community organizers, photographers, and journalists. On the other hand, women of the same ethnic identity steadfastly promoted a French Algeria, while others fell somewhere in between. Berretty's freelance work for Paris Match and Life magazines during the Algerian War includes photographs in a range of everyday environments circumstantial to colonialism and decolonial struggle, such as women wearing haïks (white veiled garments that cover the entire body) carrying shopping bags next to surveilling French army officers, and riots in the streets with veiled and unveiled women waving handmade Algerian flags. Bonnay's coverage of the far-right Organisation Armée Secrète (OAS) for Time and Life presents images of women on both sides of the conflict, and his photographs of Berber (Amazigh) women trekking through their homelands offer a less commonly circulated wartime representation. By retracing these photographs of women from the Black Star Collection, this project aims to understand how Berretty and Bonnay's work speaks to the image environments of the 1950s and '60s, and the ways circulation, reportage, and representations of gender steered the Algerian War and, by extension, its broader visual history.
Juan Andrés Bello
The Howard Tanenbaum Fellowship

Juan Andrés Bello is a documentary researcher and producer who explores the use of visual and textual archival materials for storytelling purposes. Over the last two decades, his practice has included subjects such as architecture, history, cultural heritage, and human rights. His portfolio includes independent films, projects commissioned by TV networks, and digital resources and exhibitions for museums and cultural institutions. His work has been exhibited at specialized film festivals, including the Festival International du Film sur L´Art (FIFA) in Montreal. Villanueva, The Devil, his documentary about the Ciudad Universitaria de Caracas, a UNESCO World Heritage Site, was included in the exhibition A Tale of Two Worlds, at the Museum Für Moderne Kunst in Frankfurt and the Museo de Arte Moderno in Buenos Aires. His latest project, The Chalatenango Massacres, documents the crimes committed by the Salvadoran army and paramilitary groups against peasant communities at the outset of the country's Civil War (1980–1992), and was supported by the Canada Council for the Arts and the London Arts Council. He is also a lecturer in the Faculty of Information and Media Studies at the University of Western Ontario.

Abstract

The Salvadoran Civil War (1980–1992) in the Black Star Collection

This project will explore the coverage of the Salvadoran Civil War (1980–1992) in the Black Star Collection, searching for photographic evidence of key historical events, the armed conflict, forced migration, and human rights violations. At the time, war photographers played an essential role in raising international awareness of the confrontation in Central America, and in some cases their images constitute the only material evidence of the atrocities that were perpetrated. This investigation aims to place these photographs into a narrative by using the existing metadata, academic sources, interviews with the photographers, and in consultation with community historians in El Salvador. The final goal is to develop a strategy with organizations in Canada and El Salvador to present these images to the Salvadoran diaspora and the communities where they were produced. Doing this creates an opportunity for retrieving and preserving memories in connection with these historical events, in an effort to prevent something similar from happening again.
Walsh Millette
The Elaine Ling Fellowship

Walsh Millette is interested in visual and textual documentary media as they relate to travel, journey, walking, and exploration. Walsh first entered art history and criticism through his own art practice, having completed a BFA at the Savannah College of Art and Design. He is currently an MA candidate in art history and archaeology at Columbia University, New York, where he studies late nineteenth and early twentieth century photography and painting and their intermedial interactions in greater East Asia. Walsh returned to the US, his home country, in 2020 after obtaining an MA in Chinese history as a Yenching Fellow and Chinese Government Scholar at Peking University, Beijing, China. His work there traced the photographic journaling and surveying of archaeologist-explorer Sir Marc Aurel Stein in early-twentieth-century Kashmir, British India and Xinjiang, China. Walsh is a practicing photographer, writer, and collage artist.


Abstract

Creating Space: Elaine Ling in Mongolia, on the Steppe and in the Yurt

Photographer Elaine Ling (Canadian, born China, 1946–2016) traveled to Mongolia five separate times between 2002 and 2008. The images she created there of the windblown steppe, the Gobi Desert, and of other travelers, too—nomadic families and herdsmen—encapsulate the great vastness of southern Mongolia's sparse natural landscape. This project explores exactly that: the wild emptiness and openness of geographic space captured on film. What are the correlations between, on the one hand, real space sensed and perceived out in the world, and, on the other, negative space deployed by the photographer in a carefully chosen, framed, and crafted image? How does geographic space transform into aesthetic space? And what are the ways in which a photographer works with space to achieve aesthetic interest or affect? How do the geographic and poetic imaginaries interact? The relationship between photographer and environment takes center stage as this project aims to unravel the myriad ways in which we interact with, perceive, and then represent physical, geographic space in landscape photography.
Learn more about our fellowship program, current fellows and the research they are conducting here.