Xie Rong: Cut Piece
January 25–April 1, 2023
Salah J. Bachir New Media Wall
Guest Curator: Simone Estrin
In 1964, Japanese-American artist Yoko Ono first performed and filmed Cut Piece at Yamaichi Concert Hall in Kyoto, Japan. To mark the opening of Ono's 2019 exhibition Peace is Power at the Museum of Fine Arts in Leipzig, Germany, Chinese-born artist Xie Rong performed Ono's Cut Piece. Now regarded as a pioneering work of performance art and conceptual art, Cut Piece has also become an iconic feminist artwork. Unlike the single-channel perspective of Ono's original film, Xie's two-channel video offers both an overview of the performance as well as close-ups of Xie. In her performance, Xie, like Ono, makes herself vulnerable as she puts the onus on the audience to dictate how the experience will unfold, ultimately revealing how easily people become complicit in perpetrating acts of violence. This is performance as protest.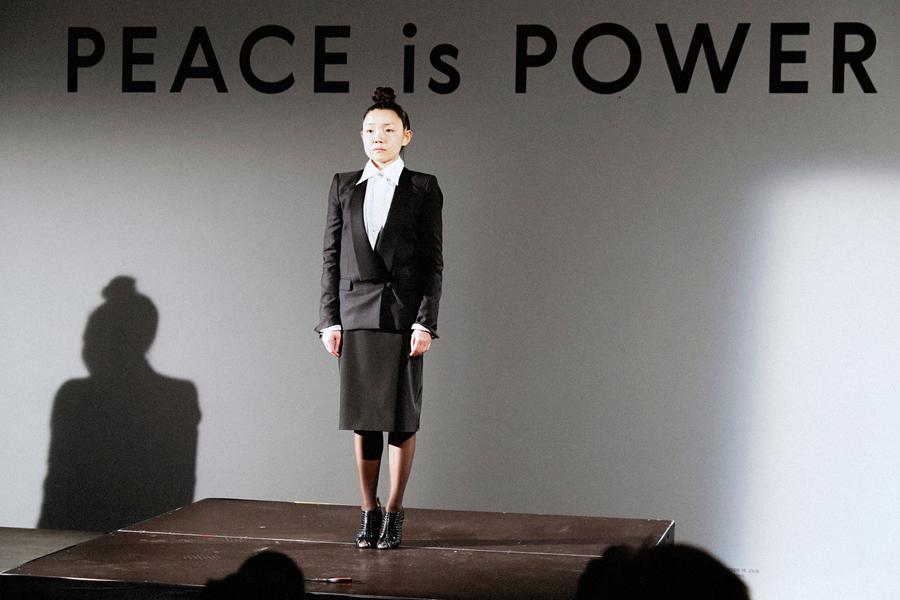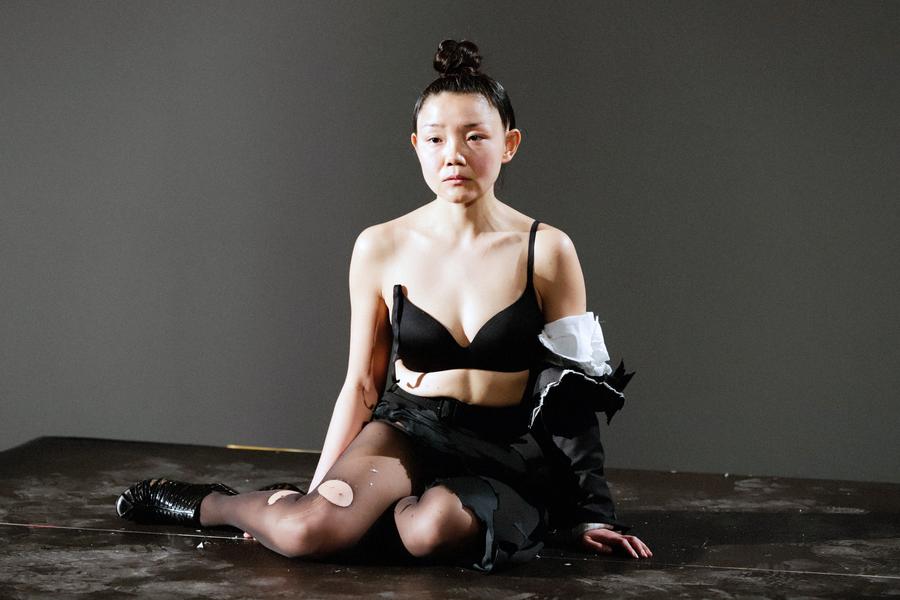 Artist & Curator Bios
Multidisciplinary artist Xie Rong (Chinese, b. 1983) lives and works in London, England. Her work challenges longstanding stereotypes about women and femininity, and in particular, subverts tropes about women of Chinese descent. She studied at the Sichuan Fine Arts Institute High School in Chongqing, China, and at the Royal College of Art, London. She won the Aesthetica Art Prize (2014) and the Chinese Arts Now Scratch Award (2019), and has performed and exhibited in the United States, France, Egypt, Mexico, Iran, Sweden, Australia, and Korea.
For most of her career, Xie went by her English name, Echo Morgan. Cut Piece was her final performance under that name. She has now reclaimed her birth name.
Simone Estrin (she/her) is a Toronto-based filmmaker, curator, and arts administrator whose work questions the experience of art and its value for society. Her short documentary, A Shift in the Landscape, follows the battle to protect artist Richard Serra's monumental sculpture, Shift. Her exhibition, Xie Rong: Cut Piece, is currently on view at The Image Centre, and she is developing her first feature-length film about the life and legacy of Marcia Tucker, who founded the New Museum of Contemporary Art in NYC.
Installation Shots