Nir Evron: A Free Moment
January 22 – April 5, 2020
Salah J. Bachir New Media Wall
Guest Curator: Brian Sholis
Israeli artist Nir Evron's film A Free Moment (2011) draws together political history and formal exploration. Shot in the abandoned shell of the never-completed Jordanian Summer Palace in East Jerusalem, this four-minute film reveals a dizzying perspective on the structure's concrete bulk and the city sprawling beneath it. Though silent and restrained, A Free Moment suggests that long-ago political conflicts can have persistent influence, disorienting lives and altering the meaning of public spaces far into the future.
Events:
Winter Exhibitions Opening Party
Wednesday, January 22
6–8 pm
Exhibition Tours
Daily 2:30 pm
All events take place at The Image Centre (formerly Ryerson Image Centre), unless otherwise noted.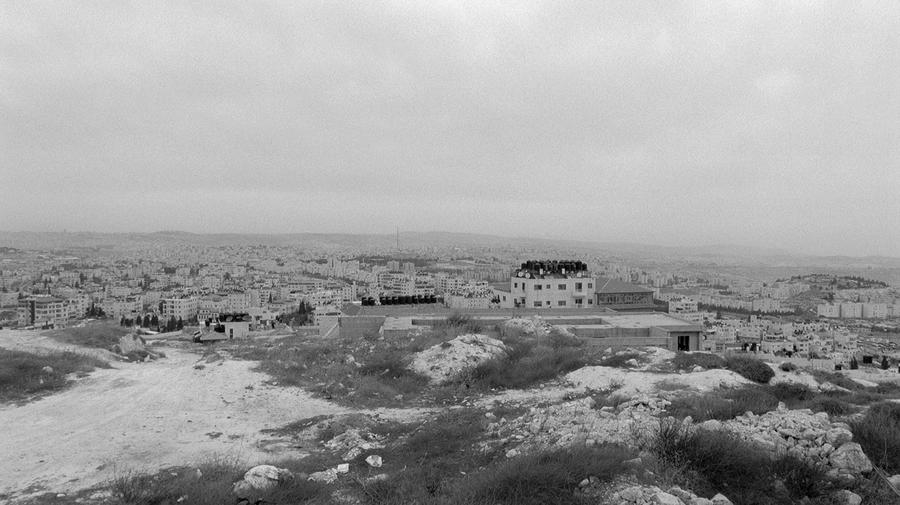 Bios
Nir Evron (born 1974, Herzliya, Israel) is an artist and filmmaker who investigates relationships between history, media, and memory. After receiving an MFA from the Slade School of Fine Art in London, England, Evron began exhibiting his films, videos, and photographs widely. He has been included in the Berlin Biennial and the Rotterdam Film Festival (2010, 2012); has presented solo exhibitions at the Tel Aviv Museum of Art, Israel (2016), at the Institute of Contemporary Art in Richmond, Virginia, United States (2015), and at LAXART in Los Angeles, United States (2014); and has received several awards from the Israeli Ministry of Culture. His work is in the collections of the Israel Museum, Jerusalem, Israel; Deutsche Bank, Frankfurt, Germany; and La Caixa Foundation, Barcelona, Spain, among other organizations. This is Evron's first exhibition in Canada.
Brian Sholis is a curator, editor, and writer based in Toronto, Canada. Previously executive director of Gallery TPW and curator of photography at the Cincinnati Art Museum, his recent exhibitions include Art's Biggest Stage: Collecting the Venice Biennale, 2007–2019 at the Clark Art Institute, Williamstown, Massachusetts, United States, and, with Julia Dault, Touch Screen at Galerie Antoine Ertaskiran, Montreal, Canada. He is the author of Kentucky Renaissance: The Lexington Camera Club and Its Community, 1954–1974 (Cincinnati Art Museum/Yale University Press, 2016) and has written for Artforum, Aperture, Frieze, Art in America, and other publications and museum catalogues.
Installation Shots