Adrian Raymer: Rejects
May 1 – June 9, 2019
Student Gallery

My grandfather James spent the last years of his life in a small flat in Burlington, Ontario, estranged from his family. Following his death in 1997, all of his possessions were sold by a nameless German couple he shared the apartment with, leaving nothing but whatever my grandmother Marie had in her custody. Twenty years later, I found a forgotten box of slides bearing the words, "Waltons – Rejects," filled with images of James and Marie in their twenties attending a party, and this project began.
In Rejects, I reenact the scenes in the 35mm colour slides found in the box and narrate a new history for the original images, looking at how we lose context as the truth becomes distorted and lost over time. Dancing on the line between fact and fiction, I present the props sourced and used within my reenactments as real artifacts, their history solidified in their existence within the old slides, the re-creations, and the installation.

- Adrian Raymer
Events:
Opening Party
Wednesday, May 1
7:00 pm - 11:00 pm
Exhibition Tours
Daily 2:30 pm
All events take place at The Image Centre (formerly Ryerson Image Centre), unless otherwise noted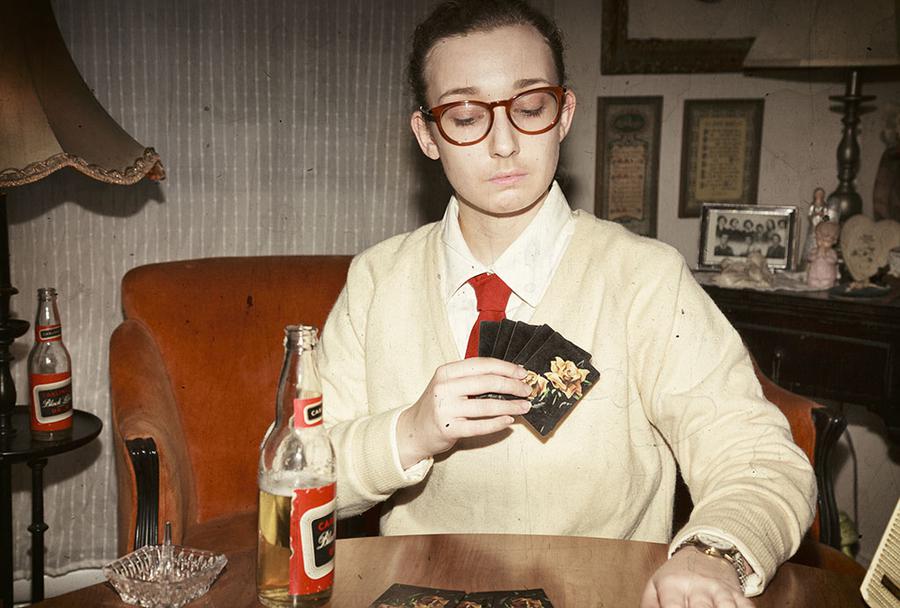 Artist Bio
Adrian Raymer has always felt that the most important parts of a photograph are the hidden emotions and truths that lie unseen within. As far back as she can remember she would take self-portraits as a way of manifesting these ideas. Examining themes of identity and relationships, her current work investigates the narratives that lay within archival images and documents, in turn questioning the validity of photographs as evidence. She is concerned primarily with memory and truth, and in the process of unearthing the stories behind lost archival photos, she hopes to find their connection to the present. Raymer is a graduate of the photography program at Toronto Metropolitan University (formerly Ryerson University).
Installation Shots